1mm, 2mm, 3mm, 5mm Neoprene Fabric Stretch Nylon Lined Waterproof Wetsuit Rubber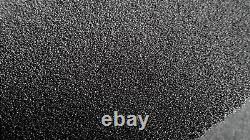 1mm, 2mm, 3mm, & 5mm Neoprene Fabric. Double Lined Laminated Waterproof Rubber. 1mm, 2mm, 3mm, & 5mm Thickness.
COLORS Available: Black / Black, Pink / Black, Turquoise / Black, Cow Print / Black, Camouflage / Black, Red Hawaiian / Black, Navy Blue / Black, Red / Black, Gray / Black, Purple / Black, Pink / Black, Yellow / Black, Gold / Black, Silver / Black. Varying Widths & Lengths - Choose your cut (see drop down menu). Double-lined with laminated Nylon fabric, Polyester fabric, specialty fabric, or textured rubber. Fabric lamination, provides soft, smooth, good stretch. Waterproof Neoprene with Styrene Butadiene or Chloroprene Rubber foam core.
Use Neoprene in fashion, athletics, medical equipment, and more!