7-Piece Heavy-Duty Alloy Steel Garden Tool Set, Garden Tool Set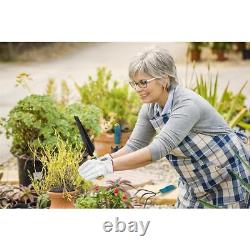 Our sophisticated home gardening tools are just what you need. Our garden tool kits are made from top quality CR-MO alloy steel sheet and wire. Our rust-resistant construction ensures you'll use these tools for years to come. We've equipped these garden sets with colorful handles so you can easily spot them in the grass or garden.
Lost tools will be a thing of the past This garden tool kit is designed with a superior thermoplastic rubber handle for great comfort, slip resistance and moisture resistance. You can use them with wet or wet hands The best gardening shovels, shovels to make your work enjoyable. You will love these tools, Each indoor gardening tool has a hole at the top of the handle so you can easily hang it and keep the tool organized after use. Remember to clean each 1 after use.
This tool set is the perfect gardening gift for mom, dad and grandmother. Gardening tools for the elderly. There is no better way to show your love than to share their interests. Top quality: our garden tools are made with rust-resistant CR-MO alloy steel blades, sheet metal and wire, perfect for long-term use, garden supplies including gloves and storage bags Improved design: this gardening tool set makes working in the garden a pleasure, garden tools feature a new ergonomic handle made of lightweight TPR with grooves for slip and moisture resistance Comfortable to use: this garden set has brightly colored handles that help prevent tools from getting lost, gardening kit includes a storage bag and gardening gloves for added convenience Best gardening gift: this gardening tool set is designed for gardeners and flower growers, gardening sets are the perfect gift for men or women, pensioners or teenagers What you'll get: each garden kit includes a trowel, a transplanter, a lawnmower, a fork, a rake, a storage bag, and a gardening glove, they are great for digging, weeding, transplanting, and more, why wait.