Hultafors HDCS4 Heavy-Duty Chisel Set, 4 Piece (6-25mm)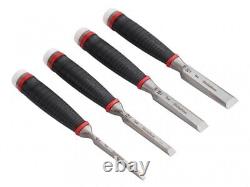 Work Wear & Safety E. The Hultafors HDC Heavy-Duty Chisels are ideal for tasks requiring strength and precision.
Forged in one piece with continuous robust I-profile for extreme breaking strength and to maximize the power transmission down into the workpiece. A 25° cutting edge provides an optimal ratio between sharpness and durability.
The entire blade, including the handle, can be placed flat against the surface which allows you to cut parallel to a flat surface. Fitted with a grip-friendly Santoprene handle and impact resistant nylon striker. The striker can be replaced when worn down.
Each chisel is supplied in a practical holster. The holster can be attached to both a belt and a button on your work clothes. If your belt is thick, cut away the small pin on the cover.
This Hultafors Heavy-Duty Chisel 4 Piece Set comes with the following sizes: 6, 12, 18 & 25mm. We provide a VAT invoice with all goods. Offshore & International Deliveries All of the quoted carriage charges are for UK mainland only.