PENN Ocean Assassin 6'2 1 Piece 621MH Jig Fishing Rod PE 2-5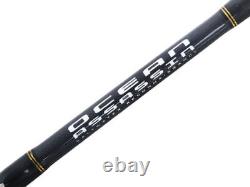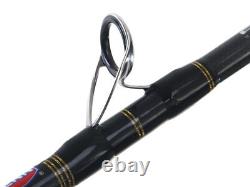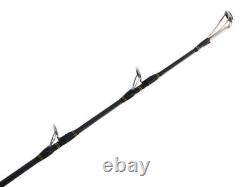 6'2 / PE 2-5 Jig 1 piece Rod. High Modulus SLS Carbon Fibre Blank. Inner & Outer Layer Graphite Spiral Wrap. Fuji DPS Graphite Reel Seat For Increased Blank Contact & Sensitivity. Latest Machined Aluminum & Carbon Lock Nut For Improved Reel Fit. Contoured EVA Grips For Better Ergonomics. Fitted With High Quality Machined Aluminum & Graphite Fittings. Introducing the all new Ocean Assassin OA-621MHFishing Rod. Increase your proficiency and catch more fish with the Ocean Assassin OA-621MH Fishing Rod! The Ocean Assassin OA-621MH Fishing Rod is made from a High Modulus SLS carbon fibre blank and is designed with inner and outer layer graphite spiral wrap construction (SWC) allowing you to experience strength, power and durability unseen in a rod of this calibre. The Ocean Assassin OA-621MH features the highest quality of Fuji DPS Graphite Reel seat for increasing the blank contact and sensitivity when fishing in deeper areas.
The Ocean Assassin OA-621MH also features Fuji Alconite K-Guides that are designed so you can disperse the load of even the hardest fighting fish. The Ocean Assassin OA-621MH delivers ease and comfort during your biggest battles.
Contoured EVA grips deliver a comfortable operation and better ergonomics so you can apply maximum power when fighting a larger fish. Penn Ocean Assassin spinning rods are excellent for throwing light baits, easy casting and offer many other beneficial features anglers look for. Primarily designed for ocean fishing they perform just as well when you need reach on freshwater with lighter baits.
Penn Ocean Assassin OA-621MH Fishing Rods are great for catching open ocean predators from Snapper, Kingies, Samson Fish, Amberjack and Cobia to GT's and Dogtooth Tuna. Note: Please look at my other listings for different Sizes. Other sizes may be in stock.