Silver Grey Granite Setts Cobbles Pavers Slabs Blocks Stone Decking Accessories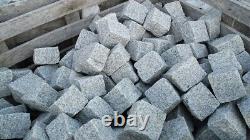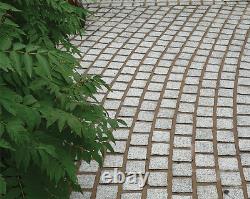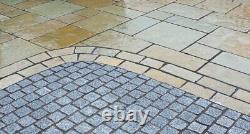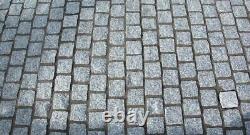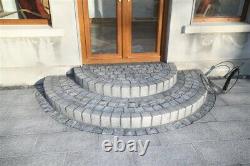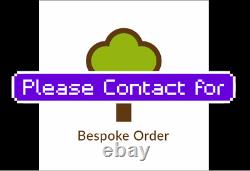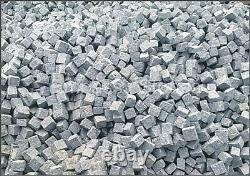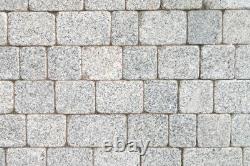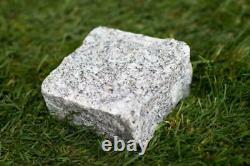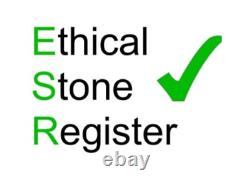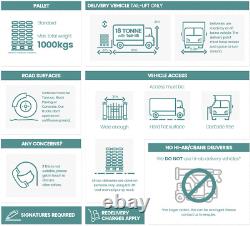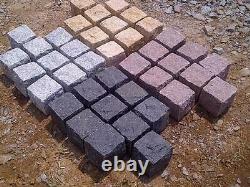 UK's Best supplier of Paving and Landscaping products. Special offers and discounts for trade and wholesale customers. Silver Grey Granite Setts Cobbles Pavers Slabs Blocks Stone Decking Accessories.
0.90 Pence Per Setts. Natural, Hand Cut, Riven, Durable, Robust, Traditional Look, Square.
Floor, Walkway, Drive Way, Water Feature, Home Exterior Wall, Plant bed Edging, Courtyard, Driveway etc. Strata Stone Silver Grey granite setts are a great-looking salt-and-pepper style mix of black and white granules. Silver grey granite is our most popular colour, and is often combined with black granite to create contrast. Silver grey granite setts are extremely versatile and work well when combined with most other granite colours and styles. Please note that due to the nature of granite setts all sizes stated are nominal, and that all measurements are in millimeters.
What size should you choose? Our most popular range for a residential project is the 100x100x40-60mm and for projects which include heavy traffic such as roadways, then the 100x100x4.60mm Granite Sett is our recommendation. Natural split granite setts are pieces of stone as they come hewn from the rock. The given dimensions are not exact but this adds to the charm and provides the characteristic rustic appearance. During tests, this paving absorbs less than 1.08% water when fully saturated. The lower the water absorption, the lower the risk of algae growth and staining. By comparison, concrete paving has an average water absorption of 6%. During testing, this paving showed flexural strength of 27.7 Mpa. The flexural strength value shows how much bending stress a paving unit can be put under before it breaks and the higher the number, the stronger the paving. By comparison, concrete paving has an average flexural strength of 5 Mpa.
During a repeated test cycle of freezing to -40 degrees Fahrenheit, followed by thawing, this paving only lost 1 Mpa of flexural strength. This result demonstrates excellent paving resilience.
A pendulum is used to swing across the stone to determine friction. The rougher the surface, the more the pendulum slows and the higher the value.
Please try our free samples if you are interested in this product. For Landscaping Bespoke Order Working Please visit. ALL OTHER POSTCODES, OFF-SHORE ISLANDS, SCOTTISH HIGHLANDS, NORTHERN IRELAND.
All deliveries will be kerbside/bottom of the driveway only. Any alternative arrangements made between yourself the customer and the driver will not be part of our contract between our company, yourself and the courier. Deliveries lorries vary in size and maybe upto 28 tonne, if there are any difficulties with access in reaching your property, such as narrow roads, steep hills, long driveways. If you do notice any damages or you are unsure, but unable to check please sign the form as unchecked or damaged. Strata Stones is the UK division of Stone Age, India's leading producer and exporter of ethically sourced natural stones.
As the sole UK supplier of a portfolio of natural stone products from our own quarries in India, we are the stone company of choice with our production and factory operations currently supplying 38 countries across every continent in the world. The heart of our process is a deep knowledge of the raw material, gained from decades of expertise in extracting the stone from our own quarries in Kota, Rajasthan, and from our key partners strategically situated across India. Our team of natural stone specialists select the stone blocks on site at each quarry to ensure it is free from faults and imperfections, before transporting to one of two highly automated manufacturing facilities located near Jaipur, India. This guarantees our products are manufactured to the highest standards, in accordance with the harmonised European standards for manufacturing compliance and material sourcing, and is embraced by the CE mark as standard on all our products.
Strata customers can be assured that our stone is sourced from quarries that are fully compliant with ethical trading standards, in line with our processing operations. This is validated by the fact that all our documentation, procedures and practises are independently audited and comply with ISO9001:2008 and SA8000:2008, by TUV Rheinland, a leading international body for the certification of safety and quality in products, processes and management systems. Our own quarry operations and factory facilities offering multiple natural stone finishes and processes are unequalled by any other UK supplier of Indian natural stone products.
Due to significant investment in our stone processing factories we are able to offer an extensive range of finishes as you will see in this brochure. This investment enables us to customise products and finishes to produce outstanding statement product for our customers in over 30 countries. Our attention to quality and extensive range of stone solutions means we are able to supply the UK landscaping market, in addition to the interior and home furnishing markets utilising both traditional sawing and processing techniques for natural stone as well as 21st century CNC computer controlled technology. WHY YOU SHOULD CHOOSE STRATA NATURAL STONE. We are the only UK company offering total supply chain management, from our own quarries in India through to our own manufacturing operations that process and package the full range of textures and finishes that we offer. Where the quarry of origin is not owned by Stone Age, our team of natural stone specialists select the rock prior to manufacture. Quality is paramount, so we ensure that only the best quality rock is selected for use in the manufacture of Strata products.
This means that our customers receive paving that is manufactured from the best quality sandstone, limestone and granites. These factors if present in Indian sandstone will undermine the durability of your paving long after installation. All our products comply with the CE mark.
ETHICAL TRADING AND HEALTH & SAFETY. All aspects of ethical trading are a way of life at Stone Age and were introduced into the work culture way before this important subject was made public! Sanjeev Agrawal - Executive Chairman.
Our ethical and health and safety policies ensure that our employees safety is our priority and that safe working practises are employed across the business. No child or forced labour is ever employed by our company. Stone Age also operates a charitable trust and contributes from its UK and Indian profits to local educational and health establishments, enabling support for local schools in Jaipur and free treatment and medical equipment for the children with thalassemia, a genetic disorder. AN INTRODUCTION TO OUR PRODUCTS.
Natural stone is recognised as the material of choice in residential and commercial projects all over the world due to the unique beauty of the material, and the unspoken statement of timelessness, quality and prestige that it conveys. At Strata our portfolio of stone includes many finishes to enable different styles and effects to be achieved. Some examples of these are highlighted below, but if you are looking for something unique let us know, and our Design and Technology team will work with you to achieve your objective.
This is achieved by sawing a block of stone into tiles and carrying out a secondary mechanical process to hone the surface to create a semi-polished smooth appearance. In this collection, sawn stone tiles are subjected to a pressurized flow of fine sand resulting in a uniform lightly textured nonslip surface.
As the title suggests, edges of natural cleft stone tiles are sawn cut to create smooth and straight lines, allowing for tighter grouting joints during installation. Stone tiles are encased in rotating metal tumbling drums along with ceramic beads, whereby their continuous rubbing motion against the stone gives the surface and edges an "aged" and weathered appearance.
The surface of the stone is processed with heavy duty, hard bristled brushes to give the appearance of "old" worn and smooth stones often seen in heritage buildings. NATURAL CLEFT HAND CUT EDGES. These are the terms used to refer to the stone when it has a natural finish, whereby each tile has been split by hand from a large block, along its natural laying seam and then set sized tiles are created using a chisel, slaters axe or hammer to create a very natural look surface and edge.
It's always difficult calculating cuts and how much paving is required, we always recommend that you allow a minimum of 5% for cuts and any potential breakages. We recommend that you set this aside for cuts. Laying guides are something we can supply to you; however, we do advise that every garden and fitting requirements are different and a laying guide should not be used.
Once the order has been received or in transit, we ask that you notify us within 7 days of receipt of the items. Strata flagstones are ideal for patios, paths and courtyards and we have provided this installation guidance to help ensure you get many years of trouble-free service. Installation tips such as this can never be comprehensive for every project and we urge you to seek professional on-site advice for any specific issues not covered in this brief guide.
Getting ready to lay your patio. Wooden pegs or steel pins for. 2.4 - 3.6m long timber straightedge.
Flagstones need to be laid to falls to ensure that any water on the surface will drain away properly. We recommend a fall of 1:60, which is equivalent to 17mm per linear meter. This is sufficient to drain the paving without it being noticeably sloped. The area to be paved needs to be cleared of all vegetation and topsoil, to a depth of at least 65mm.
Remember: paving should always be laid at least 150mm lower than the Damp Proof Course (DPC) of any adjacent building. Use taut string lines as guides to both alignment and surface level. These can be fastened to pegs knocked into the ground or nails fixed into masonry. Use string lines at the edges of the pavement and then use a long timber straightedge to span from the flags to the string lines to check for level. The flags need to be laid onto a full mortar bed.
This means the bed underneath each piece extends beneath the entire flagstone, with no gaps or voids. Some less experienced installers lay flags onto'spots' or'dabs' of mortar, which we cannot recommend as these spots do not offer full support to the flags and often cause problems in the months ahead.
The mortar should be a mix of 4 parts sharp sand with one part cement, mixed to a consistency that is moist but not overly wet. Wet mortar can be messy. Light coloured flagstones, and those formed from granite are often prone to discolouration when laid onto mortars made using strongly-coloured sand, such as the orangey sands common in SE England. This will minimise any risk of discolouration whilst ensuring your new paving is properly bedded and fully supported. The mortar bed should be 35mm to 60mm thick. Where the mortar would be thicker than this, or where levels need to be built-up, this should be done using crushed stone such as Type 1 which is readily available at most Builders Merchants. Aim to have a reasonably consistent bed thickness throughout.
It's best to use a powered mixer to prepare the mortar. They make light work of the mixing and allow you to save your energy for laying the flags, rather than mixing sand and cement. Mix only as much bedding mortar as will be used in 30-60 minutes. Mortar starts to harden as soon as it is mixed and, in warm weather, it may become'stiff' and unworkable in as little as 20 minutes.
Be sure to wear protective eyewear and gloves when mixing mortar. Cement is strongly alkaline when wet, so dust or mortar splashes can damage your eyes and your skin. Wear long sleeved clothing and wash any splashes with clean water immediately.
If your patio involves a lot of cutting we would advise that you hire a powered cutting tool with a diamond tipped blade (any hire shop will advise you of the machine and blade you will need if you advise them of what you are intending to cut). Please take care and also make sure that your hire shop issues you will full instructions and relevant safety equipment, including goggles. We recommend that whenever laying natural stone you should mix your paving from 3-4 different packs (where possible) as you lay your patio. This will allow the colours to blend and help to improve any shade variations that may occur between packs, giving your patio a more natural look. Using a brick or pointing trowel, spread the mortar over an area approximately 100mm longer and wider than the flag to be laid.
Ripple the surface of the bed with the point of the trowel so that there will be some'give' once the flag is placed onto the mortar. Lift the flag into position and carefully lower it onto the bed.
With larger flags (600x600mm or larger) it is best to have an assistant helping to lift and lower the flag. Once in position, the flag should be 5-10mm high, and should then be tapped down to the correct level using the rubber mallet. Don't hit the flagstone at the corners or in the exact centre. This can break the flagstone and, even if it doesn't, it usually results in uneven laying. Aim for the points that are located roughly halfway between the centre and the corners, and use a succession of light but firm taps rather than heavy blows.
Tap down one edge once or twice and then tap the opposite edge, alternating as required until the flag is at the correct level. If the flag is not going down on the bed, you may need to lift it out and remove some of the bedding mortar. Take care not to allow the bedding mortar to stain the flagstone edges when lifting it from the bed. Similarly, if the flag goes down too far, you may need to add mortar to the bed to achieve the correct level.
Use the spirit level and/or the straightedge to check the flag is falling in the right direction and is at the correct level. Be certain that the flag is correct before moving on to prepare a bed for the next flag. Remember to allow for jointing. Many flagstones are laid with a 10-15mm wide joint that can be filled with mortar or a resin-based jointing material once the bed mortar has hardened (usually 24-48 hours). With some random layouts, you may find that some joints need to be 8-12mm wide while others are more like 15-18mm wide. This is nothing to worry about, but should be borne in mind when laying the flags. You may find that you need to adjust the width of some joints as the laying proceeds. There should be no significant'lips' between adjacent flagstones. They should be roughly (± 2mm) level with each other. At free edges of the paving ie: where the flagstones would lie against grass or flower beds, etc. You may wish to bring the mortar bedding up the edge of the flagstones to prevent them moving sideways. Traditionally, flagstones were pointed with a cement mortar. This would be made using a 3:1 mix of building sand (softer and less coarse than the sand used for the bed mortar) with cement, but as mentioned previously, when working with light-coloured sandstones and granites, it's often better to use silver sand with white cement. The jointing mortar is mixed to a stiffer consistency than bed mortar, and then pushed into the joint from the blade of a trowel using a small pointing trowel, packing it into the joint before smoothing off with the pointing trowel or a special'pointing iron' that gives a flat or semi-round profile. This takes a great deal of care to ensure the mortar does not stain the edges of the flagstones and it can be very time-consuming for those not familiar with it. Nowadays, many contractors use resin-based or polymeric mortars to joint flagstones. These are simply brushed into the joints, and any surplus swept off the surface. The resin is completely transparent, so cannot permanently stain the flagstones.
Occasionally, a slightly shiny film or residue may be left behind on the flagstone surface, but this should weather away in a few days. These resin or polymeric mortars are more expensive than a sand/cement mortar, but they are very easy to use, very quick, and they avoid any risk of staining, even with light-coloured and/or granite flagstones, so may be worth considering. Some homeowners prefer the look of their paving when it is damp or wet, as the moisture tends to bring out the natural colour of the stone. This effect can be achieved permanently by using a good quality colour enhancer. It's worth noting that different types of stone look better with different colour enhancers, so try to choose a product that is specific to your material rather than a'jack-of-all-trades'.
Always test the colour enhancer on a surplus flagstone or sett or in a discreet corner before applying it to the whole pavement. Allow it to dry and leave it for a few days as the character can often change as the product cures. While colour enhancer can improve the looks of the stone, sealants can both enhance the colour and protect the paving from accidental staining or colonisation by algae and lichens. There is a great deal of variety with sealants, both in terms of the type of chemicals used to manufacture them, and in their finished appearance. It's vitally important to appreciate that sealants should only ever be applied to paving that is bone dry.
The presence of any moisture on the pavement surface or within the jointing can seriously affect the way in which the sealant cures, and in some cases, will result in an unattractive milky-white discoloration which can only be corrected by chemically stripping the sealant. Consequently, sealing should only be undertaken during the warmer, drier summer months. Strata Stones cannot accept any responsibility for any mortar staining, cutting or problems during the laying of their sandstone and limestone.
This item is in the category "Garden & Patio\Landscaping & Garden Materials\Patio, Deck & Walkway\Patio Stones & Paving Slabs". The seller is "stratastonesltd" and is located in this country: GB.
Shape: Square
Silver Grey Granite Setts Size: 100X100X40-60 mm
No. of Pieces: 1100 Pieces
Size: 100X100X40-60 mm
Colour: Grey
Country/Region of Manufacture: United Kingdom
Coverage per Case: 9.08 m2
Style: Vintage/Retro
Custom Bundle: No
Item Height: 40-60 MM
Item Width: 100 mm
Material: Natural Silver Grey Granite, Silver Grey Granite Setts, Landscaping Material, Driveway Silver Grey Setts, Courtyard Silver Grey Setts, Silver Grey Granite Setts Cobble, Commercial Silver Grey Floor Setts, Drive way Edging Stone, Traditional Walkway Granite Setts, Grey Granite Cobble Setts, Landscaping Cobble Setts, Exterior Silver Grey Granite Cobble Setts, Garden Silver Grey Granite Cobble Setts, Outdoor Silver Grey Granite Cobble Setts, Driveway Silver Grey Granite Cobble Setts, Stone
Pattern: Heavy Pattern
Type: Paver Slab
Features: Hand Cut, Natural, Natural Granite, Silver Grey Granite, Riven, Split Stone, Durable, Robust, Square, Landscaping, Garden Material, Decking Accessories, Walk way Accessories, Driveway Accessories, Calibrated, Hand Split
Number in Pack: 750 pieces, 1500 pieces
Year Manufactured: 2021
Item Length: 100 mm
Installation Type: Free
Item Weight: 1080 Kg
Brand: Strata Stones
Suitable For: Parking Lot, Garden, Public park, Driveway, Walkway, Garden Edging, Planter Edging, Patio Paver Edging, Basement, Entryway, Pillar setts, Border Setts, Garden Landscaping, Patio Paving Decking Accessories, Garden Material Accessories, Landscaping Accessories, Balcony, Pool, Terrace
Stone Type: Granite