Simpson Strong 62 pieces, Heavy Strap Tie, HRS6, 6 x 1 3/8 Inches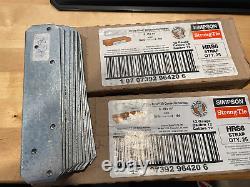 For sale are 62 HRS6 Simpson Strong-Tie straps and plates join and reinforce joints with simple, versatile solutions for a wide range of connections. Available in many lengths, widths and thicknesses, straps can be used on the wide or narrow face of lumber for light repairs or heavy-duty projects. Many straps are designed to be used back-to-back on a piece of lumber without fastener interference. A versatile, heavy-duty strap for a variety of connections and splices where extra strength is needed.
Straight lines and chamfered edges offer a better appearance. Provides support in home repair and construction projects.
Easy nailing pattern for connecting the sides of 2x members. Galvanized (G90) for extra corrosion resistance.
Install with 10d common nails or #9 x 1-1/2-in Strong-Drive SD screws.