Toyota Alphard 10 & 20 Series Cover Mats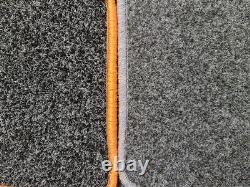 Carpet Protection set for the Toyota Alphard 10 Series (2002 - Early 2008) and for the 20 Series (Late 2008 - 2015) Alphard & Vellfire These are made from proper 7mm contract carpet and have a rubber backing. These will not fall apart like other mats on the market. The rear centre mat is approx 60 cm deep from the centre console. The mat overlaps the centre plastic where there are velcro patches stitched in so the pads attach to the plastic trim so to hold the mat into place.
The mat will not move about. If you have an 8 seater and you use the very rear seats a lot then this mat may need pulling up to get the sliding seat forward to allow access to the very last row. Note: The rear mat covers the old mat set and covers the rails (sits on top of the oem carpet). Front mats fit exactly the same as OEM mats. The drivers mat comes with 2x clip holes and heel mat.
The centre mat has 2 velcro patches stitched in so not to move about. The front mats actually replace the old front mats (They DO NOT sit on top of old mat set as this would be dangerous) Please remove old mats before adding the new ones. Please ensure you use the clips that come with the car to hold mat in place. All door step mats have velcro matches stitched in to them. These velcro pads attach to the car step.
Note: FULL SET consists of 3x front, 4x door steps and Centre row mat. It does not include 3rd row or boot mat. Looking for a Full replacement?? See our other listings below.
We do fully support our product. If the product is damaged, lost, wrong then we provide a replacement only.