Wera JOKER Metric & Imperial Combination Ratchet Open End Ring Spanner, All Sizes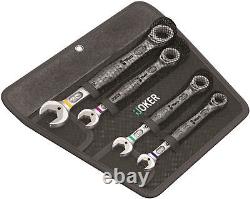 Epic Tools Ltd is offering a new. Wera Joker Combination Open End Ratchet Spanners, From Sizes 8mm Up To 19mm, 5/16in To 3/4in, Plus Metric & Imperial Ratchet Spanner Sets. The Wera Joker Ratcheting Open End Combination Spanner does everything a wrench has to do, and a whole lot more.
Wera have incorporated a hardened metal gripping stop plate on the head of the Joker which serves a number of purposes. Firstly it carries out a holding function to ensure that nuts and bolts are held in the jaw and can be easily positioned where they are needed, bringing an end to dropped nuts or bolts. The fastening of the nut or bolt can then be carried out quickly and safely thanks to the stop-plate that holds the fastener in place.
The stop plate also acts as an integrated limit-stop to prevent the Joker slipping off the fastener head. No longer is the thumb needed to act as a depth stop when fastening, preventing risks of personal injury and damage to the fastener head. This limit-stop not only makes things much easier, especially when working in confined spaces, but also allows much more force to be applied to the fastener. The Joker is made from high performance chrome molybdenum steel, which combined with a nickel-chrome coating will ensure a longer service life, high wear resistance and protection against corrosion. A special double-hex geometry delivers a very positive connection between the Joker and nuts or bolts.
The gripping plate within the head bites into the bolt with its extremely hard tips. These features act in combination to prevent unpleasant slipping even at higher torque. The ratcheting function at the ring end has a fine tooth mechanism with 80 teeth to provide greater flexibility.
Conventional wrenches have a return angle of 60 degrees, meaning that they have to be turned over again and again to tighten and loosen nuts or bolts. By comparison, thanks to the double-hex geometry the Joker has a return angle of just 30 degrees. Along with its straight neck, this means that nuts and bolts can be tightened and loosened in situations where conventional wrenches cannot cope. Particularly useful when working in confined spaces.
Please select the sizes or sets you require by simply using the drop down menu above. 8mm x 144mm Length model: 073268. 10mm x 159mm Length model: 073270. 11mm x 165mm Length model: 073271.
12mm x 170mm Length model: 073272. 13mm x 177mm Length model: 073273.
14mm x 188mm Length model: 073274. 15mm x 200mm Length model: 073275. 16mm x 212mm Length model: 073276. 17mm x 224mm Length model: 073277.
18mm x 235mm Length model: 073278. 19mm x 246mm Length model: 073279. 10mm & 13mm Double Open Ended Spanner. (Please Note: This spanner is Not a Ratchet). 17mm & 19mm Double Open Ended Spanner.
Size: 5/16in x 144mm length model 073280. Size: 3/8in x 159mm length model 073281. Size: 7/16in x 165mm length model 073282. Size: 1/2in x 177mm length model 073283. Size: 9/16in x 188mm length model 073284.
Size: 5/8in x 212mm length model 073285. Size: 11/16in x 235mm length model 073286. Size: 3/4in x 246mm length model 073287. 4 Piece Metric Spanner Set, Sizes: 10mm, 13mm, 17mm & 19mm & Storage Wallet. 6 Piece Metric Spanner Set, Sizes: 10mm, 13mm, 17mm, 19mm Ratchet Ring Spanners & 10mm & 13mm, 17mm & 19mm Double Open Ended Spanner & Storage Wallet. 11 Piece Metric Spanner Set, Sizes: 8mm, 10mm, 11mm, 12mm, 13mm, 14mm, 15mm, 16mm, 17mm, 18mm & 19mm & Storage Wallet. 4 Piece Imperial Spanner Set, Sizes: 7/16", 1/2", 9/16", 3/4" & Storage Wallet. 8 Piece Imperial Spanner Set, Sizes: 5/16", 3/8", 7/16", 1/2", 9/16", 5/8", 11/16" & 3/4" AF. Empty Joker 4 Pocket Pouch: Model 671383. Empty Joker 8 Pocket Pouch: Model 671381. Empty Joker 11 Pocket Pouch: Model 671382.